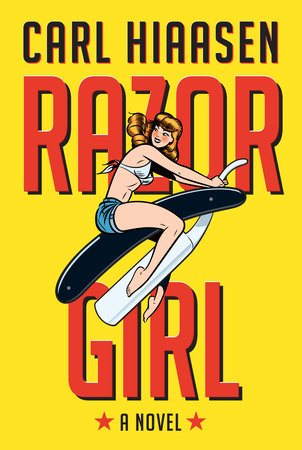 Book Review
I'm not crazy about crime novels. The bleak Scandi crime novels leave me stone cold – well, they would, wouldn't they? All that snow, ice and long dark winters are bound to produce that effect. Obviously.
And the Pathologist-cum-detective genre make me queasy. If I'd wanted to minutely investigate human anatomy I would have studied medicine. Which I chose not to do. Probably last on my Career Choice list.
Therefore, it is with a sigh of relief that I dive into the sun kissed frolicsome  pages of Carl Hiaasen's novels. Any novel set in Florida is allowed to have the word frolicsome  in the review – sun, sand, bikinis, East Coast winter fugitives, retirees, oranges, hurricanes … clearly the setting is bound to be jollier than sub-Arctic Norway.
In Hiaasen's semi-mythical world of the Florida Keys, there is a profusion of criminal low-life:  scammers, insurance fraudsters,  adulterers, gold-diggers, (all that sand encourages the pests), drunks, burglars, weed pushers, cold beers, rattling palm leaves, the Mafia, crooked property agents, lawyers (a.k.a. scum of the earth in Hiaasen's world), muscular heavies, fishing and more cold beers, disgraced but noble ex-detectives, mistresses, car-crashes … it's all fun, fun and more fun still.  Oh – last one: the odd murder or two, but that's in passing. And the deceased deserved it anyway.
Hiaasen's latest romp has the added entertainment of a truly terrible red-necked TV Reality Show , the patriarch of which sorry series is the catalyst for a seemingly never-ending chain of events involving a deranged, semi-brain dead fan of said dreadful TV garbage,  abduction, kidnap, ransom;  the TV show's   scheming  Agents and Execs, their private jets, suspect contracts, deals and deception,  etc. etc. And the cherry on  top is that Hiaasen is laugh-out-loud FUNNY. Yes, you heard me. In a crime novel, nogal* .
If you think I've given the plot away, relax: I haven't. The plot in Hiaasen's latest criminal caper has so many wonderful colourful stories tangled up like nylon fishing line, that I couldn't possibly be writing a spoiler.
Thank heavens for Mr Carl Hiaasen, and his cheerful, clever crime novels.  He's a prize-winning journalist with a regular column in the Miami Herald ; a born and bred Floridan, still resident in that sunny State. I suspect many of the outrageous incidents and  bizarre characters in his fiction originate from  his  life as a  working journalist. You can't make up some of the incidents in his novels,  you really can't.
Thank you, Mr Hiaasen, from a jaded reader. Thank you for a marvellous series of novels that provide pages of sparkling entertainment. In fact, now that I think about it, I do believe I am going to start collecting his crime novels. If you've never had the pleasure of reading  Hiaasen, do not wait another minute, run  to your nearest Library &/or book shop. Start reading. Immediately.  Enjoy!
*nogal – South Africanism =  yet.